The World Series of Poker needs no introduction. The largest yearly poker event gathers thousands of players every year, giving them an opportunity to compete for coveted golden bracelets.
However, if you want to feel the buzz and the excitement of the poker environment without actually going to Vegas or putting any money on the line, the WSOP app is your best bet.
This is an official World Series of Poker mobile app available for iPhones and Androids. You can download it for free from the respective store, and you don't need to deposit any funds to get started.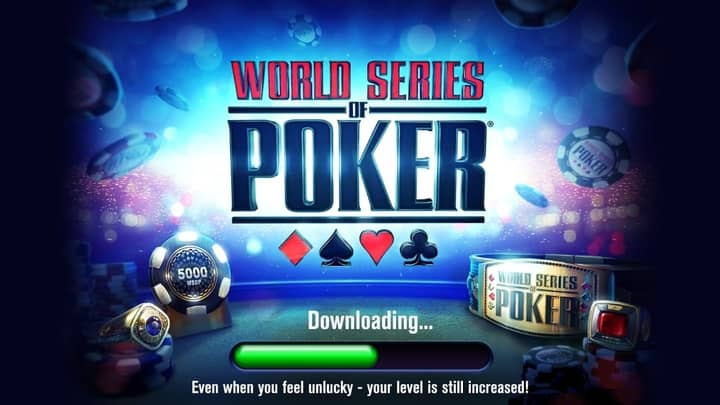 Chips you win playing on cash game tables and in tournaments are used to track your progress and can give you some bragging rights among your friends, but you can't exchange them for real money.
The WSOP mobile app does contain in-app purchases, and you can quickly boost your bankroll by buying more chips, which will cost you real money.
If you don't like the idea of spending money on virtual chips, though, don't worry.
There are many ways to get your hands on WSOP free chips, and you'll find out all about them in this article.
The design of the WSOP app is quite decent, featuring a lot of bright colors and flashy lights to bring out that Vegas feeling. However, pop-up ads constantly inviting you to buy more chips aren't nearly as fun, and it'll take you some time to get used to them.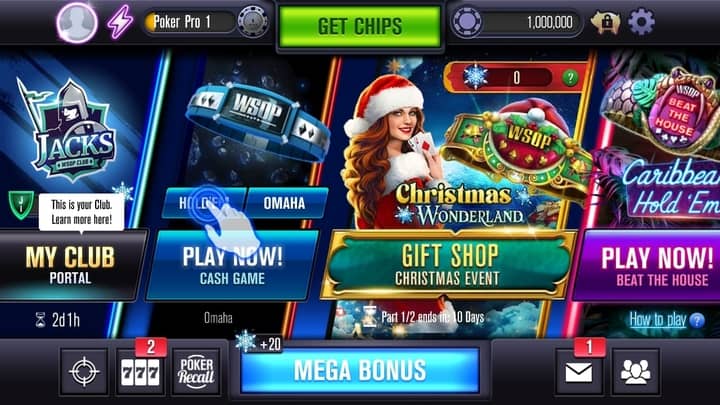 Overall, if you're looking to play some free poker, the WSOP app is a good choice as there is plenty of action at cash game tables and many different tournaments with progressive buy-ins and corresponding prize pools.
That said, many players find the idea of paying money to top up their virtual bankroll not so attractive. If you're one of these players, you've come to the right place because you'll learn about all the different ways you can get your hands on WSOP free chips without spending a single cent.
Free Chips for WSOP: Get Started with $1 Million WSOP Free Chips Promo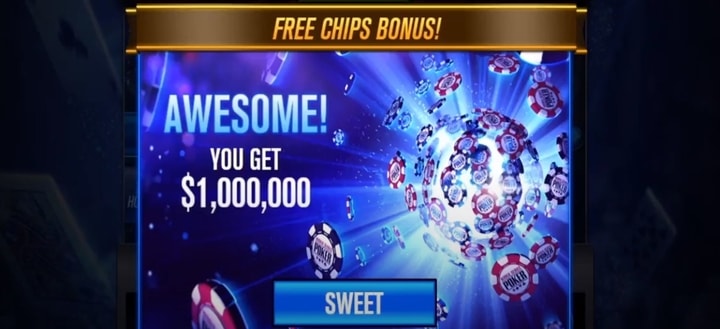 If you're a new player downloading and signing up for the WSOP app, you'll receive 1 million WSOP free chips to get you started.
All you need to do is install the app on your phone and register an account. The app offers two ways to go about this:
You can use your existing Facebook account to log in
Register via email
Using Facebook is definitely the easier and quicker option of the two, but if you want to keep your online poker identity hidden (for whatever reason), you can also use an email address.
Either way, you'll receive your $1,000,000 WSOP free chips to get you started.
This may sound like a lot, but it really isn't. The minimum stakes you can play on the WSOP.com app are 5K / 10K, which gives you ten standard buy-ins. The maximum buy-in is over 1 million, so it's really not a lot.
In terms of tournaments, it will get you into the first leg of the Champions Circuit with the buy-in of $250,000 chips.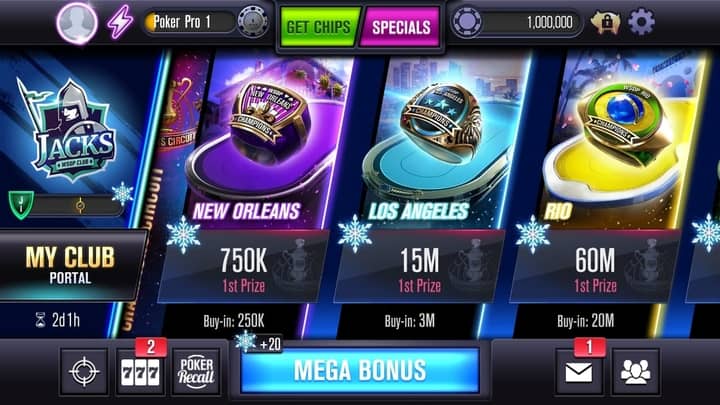 The next one will cost you $3,000,000 to enter, so, in addition to your efforts on the tables, you'll need some extra ways to get your hands on free WSOP chips.
Mega Bonus Wheel
After you claim your $1 million free WSOP chips, you can get more without having to put in any extra work.
On the home screen of the app, you'll see a red "Mega Bonus" button. It will take you to a wheel that you get to spin to receive your special reward.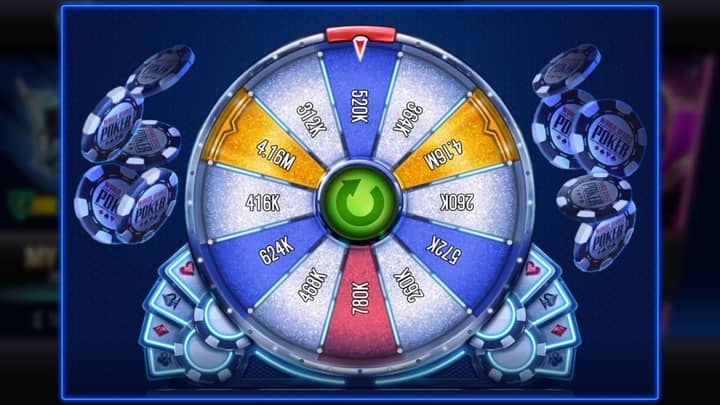 How many WSOP free chips you'll get from the Bonus Wheel is down to luck as there are different amounts on there, from a couple of hundred to a few million.
You'll receive a free bonus spin from time to time, and make sure to get it as this is a very nice way to boost your WSOP bankroll with no special efforts.
As you make progress and move up in ranks, prizes on the Bonus Wheel will increase as well.
Receive WSOP Free Chips Every Four Hours
You can get free chips for WSOP several times a day by simply logging into the app every four hours.
Of course, it also works if you're logged in for extended periods of time, as you'll receive your rewards regardless.
The amount of chips you'll get depends on your WSOP status, i.e., what club you're in.
There are six different clubs, and you progress from one to the next by being active on the app and playing in ring games and tournaments.