August 24, 2020
Matthew Pitt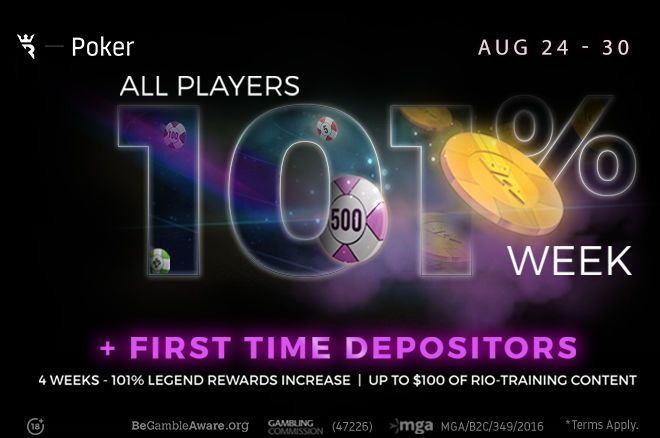 Run It Once is celebrating coming out of Beta by returning 101% of all rake to its players for the next week!
101% Week runs from August 24 through to August 30 and sees several different celebratory promotions take place that promise to return 101% of all rake collected back to Run It Once players. The site has always put its players first and 101% Week is just another example of Phil Galfond and his team doing that.
Each 101% Week promotion runs from 12:00 a.m. UTC through to 11:59 p.m. UTC each day. The promotion changes every 24-hours to ensure as many Run It Once players as possible benefit. Any rake not returned to the players at the conclusion of 101% Week will be distributed via the 101 Drop; more on that shortly.
101% Week Promotions
| Date | Promotion | Notes |
| --- | --- | --- |
| Mon 24 Aug | Super Splash At All Stakes | Splash the Pot increased by 101% |
| Tue 25 Aug | Direct Rakeback | Everyone receive 51% rakeback plus Legends rewards, plus 30% Splash the Pot |
| Wed 26 Aug | Daily leadRboards | Six leaderboards pay out more than €2,500 over 101 positions |
| Thu 27 Aug | 7-2/Trips | Win up to €10 when you win with 7-2 in NLHE or trips in PLO |
| Fri 28 Aug | Super Splash At All Stakes | Splash the Pot increased by 101% |
| Sat 29 Aug | Direct Rakeback | Everyone receive 51% rakeback plus Legends rewards, plus 30% Splash the Pot |
| Sun 30 Aug | Daily leadRboard Booster | Six leaderboards pay out more than €2,500 over 101 positions |
Super Splash At All Stakes sees the awesome Splash The Pot rewards increased by 101%. This system usually awards 30% rakeback to Run It Once players by randomly dropping cash onto the table during hands. On Super Splash At All Stakes days, the money dropped onto the table is worth 61% rakeback!
Which Run It Once training plan is right for you?
Direct Rakeback days sees every Run It Once player walk away with 51% rakeback whether or not they manage to climb up the Legends Rewards scheme or winning anything from Splash the Pot. Rakeback is calculated on a player by player basis by multiplying 100% Gross Rake by 51%. This means if you manage to rake €200 on these days you'll receive €102 back!
The Daily leadeRboards are six leaderboards, three NLHE and three PLO, that pay out the top 17 finishers. You earn 1 point for every €1 generated in rake. You'll also earn Legends Rewards and Splash the Pot rewards as you climb the leadeRboards.
We're definitely fans of the 101% Week promotion on August 27 because it's designed t generate action. Win a hand with
as your hole cards in any NLHE game and win a reward of 10 big blinds, up to €10. Omaha players can get in on the action too by winning a hand with trips in your hole cards. Again, you win 10 big blinds up to €10 for managing to do this.
There's an extra incentive to grind as you've never done before in the August 30 Daily leadeRboards because you can lock up an extra €101 for your efforts. Hit points totals as you climb the leaderboars to win a cash reward from €2.50 up to €101.
| Points | Reward |
| --- | --- |
| 5 | €2.50 |
| 25 | €10 |
| 100 | €25 |
| 200 | €50 |
| 300 | €101 |
You can only win one prize and it is one awarded for reaching the highest points target you complete. If you earn, say, 260 points, you'll win the €50 prize for reaching 200 points, for example.
101 Drop
As mentioned earlier, should Run It Once not manage to distribute the full 101% of rake taken during 101% Week through its daily promotions, the site is giving away the rest of the rake via what it calls the 101 Drop.
Prizes of €101 are to be given away via a random draw. Players earn one entry into the random draw every day they log into their Run It Once accounts during 101% Week. An additional draw entry is awarded each day if they play at least one hand! This means you can have 14 entries for playing a mere seven hands of poker during 101% Week. You'll want to play more, however, because the value in this promotion is immense.
Improve your PLO skills with the PLO GTO Trainer
Check Out The Special 101% Welcome Offer
Any PokerNews reader who downloads Run It Once via our links and makes their first deposit is eligible for a special 101% Welcome Offer. Sign-up before August 30 to receive a 101% cash bonus on all your Legends Rewards for the first four week. You'll also get your hands on up to $100 worth of Run It Once Training content in addition to the 100% match up to €600 welcome bonus!
We love the Run It Once welcome bonus because the site matches all deposits, up to a combined total of €600, for the first 30-days. This means you don't have to put €600 online all at once but can still secure the full €600.
The bonus never expires either, which is great if you can't play a lot of online poker. Log at least one rake hand every 30-days to keep your Run It Once welcome bonus active. Your bonus clears into your available balance at the following rates:
| Bonus Progression | Rake This | Get This |
| --- | --- | --- |
| €0-€100 | €25.00 | €5 |
| €100-€200 | €57.10 | €10 |
| €200-€300 | €66.50 | €10 |
| €300-€500 | €100 | €10 |
| €500-€600 | €200 | €10 |
Celebrate Run It Once Coming Out of Beta
Run It Once Poker launched on February 6, 2019 as a public beta. Galfond's team knew there would be a few bugs here and there but were always honest and open with their customer base.
Over the past 18 months, Run It Once has evolved and seen several key features added to the software. Galfond banned third-party tools, including HUDs, and the site created its own on-table HUD that everyone has access to.
Following feedback from its players, Run It Once overhauled its rewards program to make it possible to reward even more people. Thrown into the mix excellent promotions such as the Daily leadeRboards, and the Pot-Limit Omaha GTO Trainer and it's easy to see why players continue to flock to Run It Once and will likely continue to do so for many years to come.