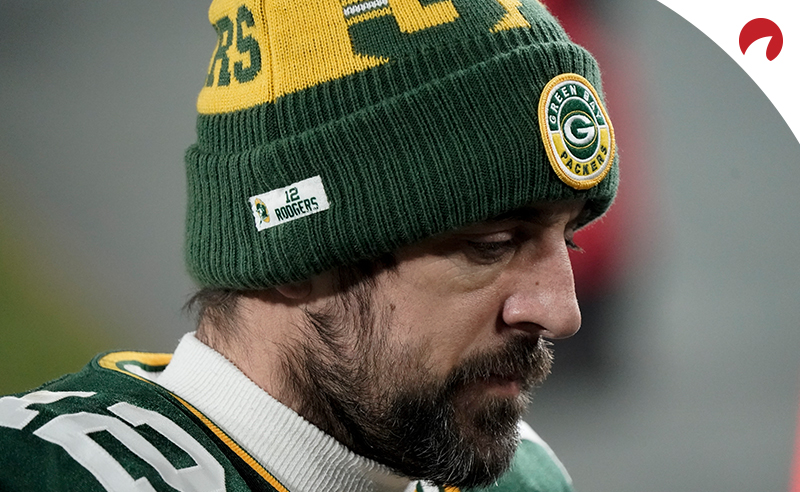 Aaron Rodgers is coming off one of the best years ever statistically by a quarterback. Rodgers is on his way to win his third NFL MVP award, throwing for 4,299 yards to go along with 48 touchdowns to just five interceptions.
See Odds Shark's Best NFL Sites
However, following a second straight NFC Championship exit, and failing to reach the Super Bowl, Rodgers had some interesting things to say in his post-game press conference that has raised some eyebrows. "There are a lot of guys' futures that are uncertain, myself included."
What this means for Rodgers's future in Green Bay is unknown. Was he just dealing with raw emotions? or was he implying that he wants out of Green Bay, a place he's called home for 16 seasons? Bovada has now released odds on where Aaron Rodgers will play for the 2021 season, with the Packers leading the way at (-550), followed by the San Francisco 49ers (+800) and New Orleans Saints (+850) as the top odds on the board.
Aaron Rodgers Odds
Odds on where Aaron Rodgers will play next season

| Team | Odds |
| --- | --- |
| Green Bay Packers | -550 |
| San Francisco 49ers | +800 |
| New Orleans Saints | +850 |
| New England Patriots | +950 |
| Indianapolis Colts | +1000 |
| Pittsburgh Steelers | +1200 |
| Las Vegas Raiders | +1200 |
Odds as of January 28 at Bovada
Will Rodgers Actually Leave Green Bay?
The answer to that question is yes, but will he is another question in itself? You can look at the Deshaun Watson situation going on in Houston, as a franchise quarterback asking to be traded, something that Rodgers can do if he decides he wants out. He still has three years remaining on his contract, so for now he is linked to the Green Bay Packers, which is why they are the -550 betting favorite for Aaron Rodgers's odds.
Rodgers was recently on The Pat McAfee Show saying, "I don't think that there's any reason why I wouldn't be back." Which sounds like he's trying to silence the analysts and pundits who think he might want to move elsewhere.
Rodgers is the only quarterback in NFL history to have lost four championship games, two of them happening in the last two seasons. On top of that, the Packers drafted a quarterback in Jordan Love in the first round last year, as his predecessor.
Something that Rodgers has spoken at length about, saying that he was not happy with the organization's choice to do that. At the end of the day he might feel better with the devil he does now, then the one he doesn't, but don't think for a second that him playing for another team is out of the question.
Best Value: San Francisco 49ers
The 49ers had the first overall pick back in 2005, and instead of taking the hometown kid Aaron Rodgers who grew up idolizing Joe Montana and the 49ers, they went with Alex Smith. Rodgers fell to the 24th pick and the Packers snatched him up and the rest is history.
Well now could be the time to rewrite the history or at the very least change it. The 49ers are exploring options to move off quarterback Jimmy Garoppolo, and without a question, Rodgers would be their top option. They are currently the second-highest teams on the oddsboard at +800 Aaron Rodgers odds.
Going Back To Cali
If Rodgers were to go to San Francisco, he would be playing with a very skilled offensive-minded head coach in Kyle Shanahan, and he would be going to an organization with one of the best defensive units in the league, something he's never had in Green Bay.
They don't have the weapon similar to Davante Adams that the Packers do, but they do have a solid offensive line, a great running game, and a tight end in George Kittle who is one of the best in the game. They also have some explosive young wideouts in Brandon Aiyuk and Deebo Samuel. If the 49ers and general manager John Lynch do show interest towards Rodgers and are willing to give up a lot of draft capital, then as Marlon Brando said as Vito Corleone in The Godfather "I'm Gonna Make Him An Offer He Can't Refuse".