January 28, 2021
Chad Holloway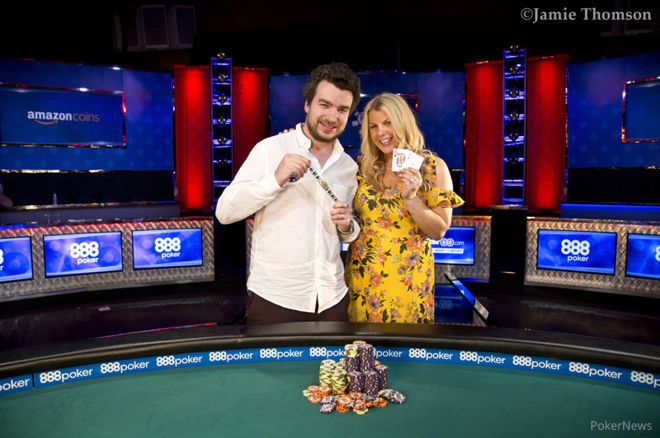 On Wednesday night, something special happened online in the World Series of Poker (WSOP) January Super Series when married poker couple Katie "katelin" Lindsay and Chris "Robotobob47" Moorman found themselves heads-up for a coveted gold ring.
The Tournament
The WSOP Circuit January Super Series Event #14: $75,000 NLH 2x Re-entry saw 410 players rebuy 202 times. The 612-entry field resulted in a $122,400 prize pool that was paid out to the top 100 finishers.
Among those to cash were Matt "RubberFist" Stout (12th – $1,542.24), Philip "tomte" Yeh (26th – $746.64), Vinny "brownmagic" Pahuja (31st – $660.96), John Allan "beastro" Hinds (37th – $587.52), Wendy "Cardthartic" Freedman (39th – $587.52), Jared "darrensrabbi" Jaffee (66th – $416.16), Jordan "HFNeon" Spurlin (72nd – $416.16), and Shannon "aulophobia" Shorr (80th – $416.16).
In the end, the title came down to Moorman and Lindsay. This time, it was the former coming out on top to win the $19,510.56 first-place prize and his first gold circuit ring. Meanwhile, Lindsay had to settle for second place and $14,443.20 in prize money.
Moorman, one of online poker's most accomplished players, now has a ring to go along with the WSOP gold bracelet he won back in 2017. If you recall, he topped a 959-entry field to win Event #27: $3,000 No-Limit Hold'em 6-Handed for $498,682.
WSOPC Super Series Event #14 Final Table Results
| Place | Player | Prize |
| --- | --- | --- |
| 1 | Chris "Robotobob47" Moorman | $19,510.56 |
| 2 | Katie "katelin" Lindsay | $14,443.20 |
| 3 | Matthew "GitGot" Volosovich | $10,648.80 |
| 4 | "wmagik2" | $7,809.12 |
| 5 | Susannah "InigoM22" Altman | $6,071.04 |
| 6 | "mulamami10" | $4,638.96 |
| 7 | Michael "SammyTwizz" Azzaro | $3,512.88 |
| 8 | Sang "YOUNGKOI" Lee | $2,668.32 |
| 9 | Chris "basile28" Basile | $2,007.36 |
What Moorman Had to Say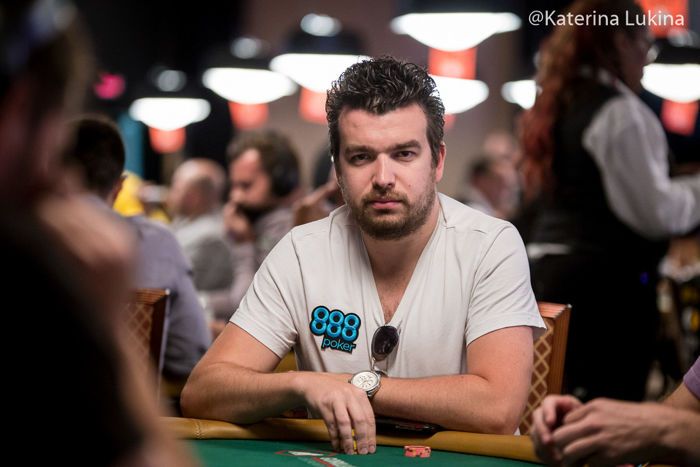 PokerNews reached out to the poker couple to get their take on things. Both were kind enough to share their thoughts, starting with Moorman.
"Winning my first circuit ring ended up giving me the weirdest range of emotions I've ever felt in poker," Moorman told PokerNews. "For the past few years, Katie has always said to me how much she wants to win one. I really believe she'd rather win one more than a WSOP bracelet if you take the money out of the equation. For me it's never been a focus or goal of mine, so to get heads up with her knowing how much more she wanted it than me I definitely found it tough to handle mentally."
"I feel like I didn't play my best and I'd be the first to admit she outplayed me heads up."
He continued: "The competitor in me had to give 100% as I knew there would be no point in letting her win, she would have to earn the victory the hard way, but in turn I feel like I didn't play my best and I'd be the first to admit she outplayed me heads up and I got very lucky to win in the end. Normally there is no better feeling than winning a tournament but instead of feeling good and happy when I won a huge hand after backdooring into the nuts versus her I felt guilty for potentially taking a dream away from her. I've honestly never felt that before even against close friends or horses."
Moorman concluded: "The rest of the final table was business as usual but to get heads up with one another for the first time ever was very special and is a story and experience that is really fun to share with friends and family. I'll try and be extra helpful around the house this week for stealing the ring off her but I've no doubt that she will get it in the future because she is probably the most driven person I know."
What Katie Had to Say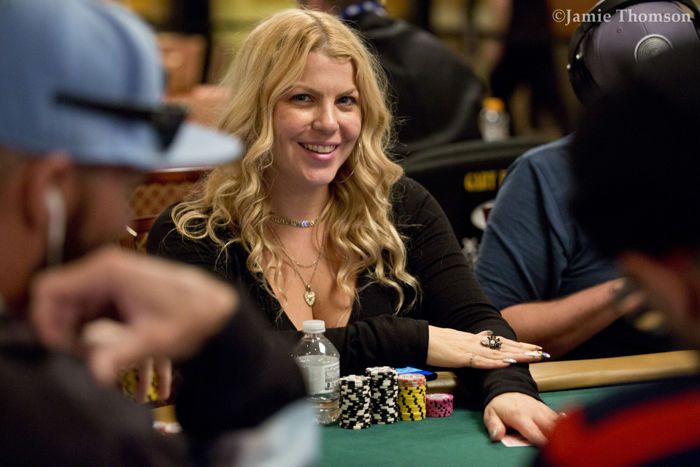 Lindsay revealed that while her husband was at home playing the tournament, she actually player most of it while out to dinner with a girlfriend. It wasn't until a break near the final table that she returned home to finish playing.
"Chris and I rarely play poker in the same room so it was funny yelling at each other after big hands from opposite sides of the house," she said. "Also, we love battling for the chip lead so there was definitely a lot of banter going on there. We had a massive hand that went down six-handed where he opened small blind and I reraised with queens in the big blind. He jammed with ace-king and I called. He had me covered at this point 1.7 mil to my 1 mil I believe, but luckily I held."
"This actually was a big heads up for us as it wasn't about the money, it's about the titles and the accomplishments."
She continued: There is no soft playing between us, we are always battling every time we end up on a table together, and we definitely showed that in this event. Once we got heads up I moved into the office where he was playing, as I thought it would be a fun dynamic to be able to see each other's faces during hands. This actually was a big heads up for us as it wasn't about the money, it's about the titles and the accomplishments. I have been fighting hard for my first circuit ring and I really wanted it. Chris had never won a circuit event either so there was more than just bragging rights on the line."
"The heads up went back and forth a lot and I hit a big stride in momentum when I got a bluff jam through on the river. He looked up at me after I jammed, contemplating his decision, and I smiled and gave him the Scotty Nguyen 'if you call it's all over baby.' Lucky for me he folded but, in the end, he hit a couple of big rivers against me and took it down."
Lindsay concluded: "I'm for sure bummed to not win the ring and even more than that, there is the part of me that wants to beat him because it isn't expected. I hate the idea of everyone saying "yeah of course he won" because I really felt like I gave that heads up my all and did feel like I played well (especially without a ton of heads-up experience). I had people say after "oh he should have just let you get the ring" but that is never how we could let it go down, and I would never want it that way. I am hopeful I can get my ring in due time and I hope I can knock Chris out on my way to getting it."
PokerNews live-streamed the latter half of the tournament, which you can watch below:
[embedded content]