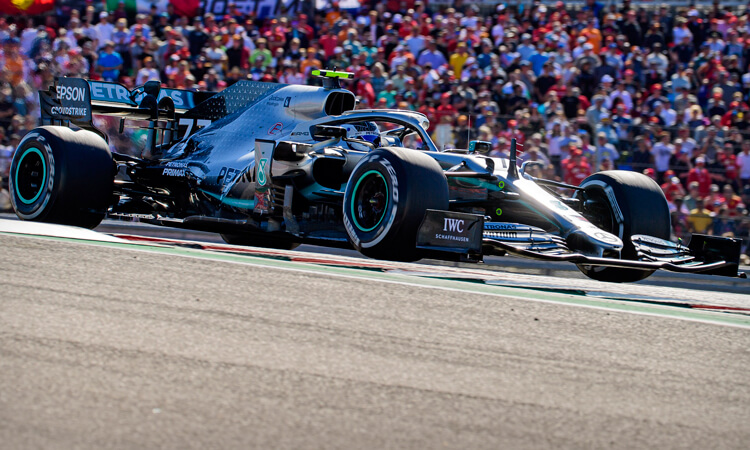 Valtteri Bottas kicked off the 2020 season with a victory, and he finds himself tied for second on the Styrian Grand Prix odds board, slightly behind Mercedes teammate Lewis Hamilton.
Photo By – USA TODAY Sports
F1 betting odds are back for another week, with the circuit staying in Spielberg, Austria for a second straight week with the inaugural running of the Styrian Grand Prix. While Max Verstappen was unable to pull off the Austrian Grand Prix three-peat last week, he is one of three drivers with big odds to win the Styrian Grand Prix.
Here are the F1 race odds for the Styrian Grand Prix, set for Sunday, July 12.
Who is the favorite to win the Styrian Grand Prix?
Lewis Hamilton (+150) has the best Formula One odds to win the first-ever Styrian Grand Prix. The six-time F1 Champion finished second in last weekend's Austrian Grand Prix, but was dropped to a fourth-place finish after being assessed a time penalty for causing the crash of driver Alexander Albon.
After Hamilton on the odds board are Valtteri Bottas and Max Verstappen, who are both tied at +200. Bottas, Hamilton's teammate at Mercedes, finished second in the F1 standings last year and kicked off this F1 season by winning the Austrian Grand Prix, while Verstappen, who finished third in 2019, did not finish last week's race due to an electrical issue.
There's a large gap between third and fourth on the odds board, as Verstappen's Red Bull Racing teammate Albon is fourth at +1,400, followed by Charles Leclerc, Lando Norris and Sergio Perez at +3,300.
F1 betting odds to win the Styrian Grand Prix
| Driver | Odds to win Styrian Grand Prix |
| --- | --- |
| Lewis Hamilton | +150 |
| Valtteri Bottas | +200 |
| Max Verstappen | +200 |
| Alexander Albon | +1,400 |
| Charles Leclerc | +3,300 |
| Lando Norris | +3,300 |
| Sergio Perez | +3,300 |
| Carlos Sainz Jr. | +4,000 |
| Lance Stroll | +5,000 |
| Sebastian Vettel | +5,000 |
| Daniel Ricciardo | +25,000 |
| Pierre Gasly | +75,000 |
| Esteban Ocon | +75,000 |
| Daniil Kvyat | +100,000 |
| George Russell | +100,000 |
| Antonio Giovinazzi | +150,000 |
| Romain Grosjean | +150,000 |
| Kevin Magnussen | +150,000 |
| Kimi Raikkonen | +150,000 |
| Nicholas Latifi | +300,000 |
Odds courtesy of DraftKings
Where is the Styrian Grand Prix taking place?
The Styrian Grand Prix will be taking place at the Red Bull Ring in Spielberg, Austria. The Red Bull Ring, formerly known as the A1-Ring, has a circuit length of 2.68 miles and covers just 10 turns — the fewest of the F1 season. That said, the layout allows for plenty of straight-line speed and lots of overtaking.
How to bet on Formula One
The most popular way to bet on Formula One odds is by simply picking the winner of a particular race. Other popular F1 betting options include on which car/constructor will win and whether or not a particular race car driver will end up on the podium with a Top-3 finish.
F1 race odds usually look like this:
This means that on a $100 bet, you'll stand to profit $650 if Vettel wins that particular race. If one driver is especially dominant, you might see a minus sign (-) ahead of that driver's odds like this:
This means that you would need to bet $175 to win $100 on Hamilton winning the race.
Where can I bet on F1 odds?
As the top international car racing competition, most online sportsbooks and casinos offer F1 odds. Check out the best sportsbooks available where you live and see what Formula One odds they have available.