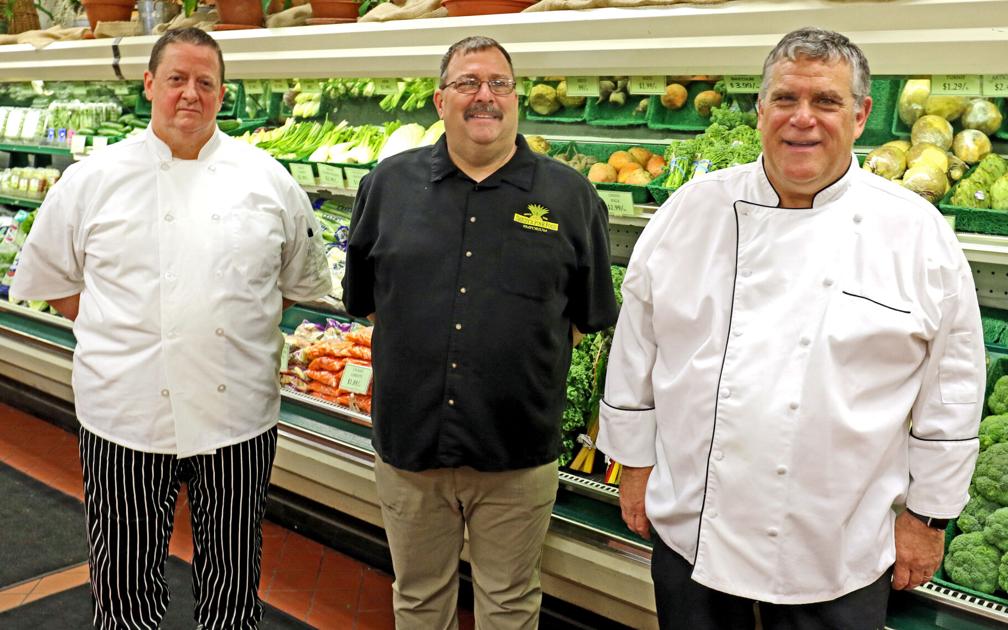 WESTERLY — You can forget those old saws about too many cooks in the kitchen when it comes to Sandy's Fine Food Emporium.
The more the merrier seems a little more apt for the kitchen inside the busy Post Road marketplace where a trio of well-known, local chefs — all close friends — have recently joined forces to create some culinary magic and help keep up with the demand for Sandy's premium prepared foods, steadily on the rise since the COVID-19 pandemic took hold.
Longtime pals Dave Miguel and Joe Collins, who began their kitchen careers in 1974 as Chariho high school students washing dishes together at Holliday's former Lantern Glow on Route 3, have joined chef Eric Perrin in Sandy's bustling kitchen to the relief of owners Jim and EmmaLee Goddiess, who have owned Sandy's since 2006.
Perrin, who's been the top chef in Sandy's kitchen for the last six years, said the chance to work with such talented chefs as Miguel and Collins, "who have the same desire to make the best" prepared foods, is a professional dream come true.
"They broke the mold after they made those two," said Perrin who began began his career at The Shelter Harbor Inn as a 15-year old prep cook and went on to a career that included running the Mystic Markets and Coastal Gourmet Catering. "We're in it for the love of it."
Jim Goddiess said he's thrilled Miguel and Collins have joined the staff and hoping the new team can help keep the cases stocked with the fresh soups, stews and prepared entrees Sandy's has become famous for creating.
"Business is skyrocketing," said Goddiess in a telephone interview one morning last week. "To be honest, I've never seen anything like this … not in thirty years."
Allie Woodward of Westerly, who oversees Sandy's social media for the Goddiesses attributes the unprecedented boom to the "global pandemic."
"Daily life has changed significantly for most Americans," said Woodward. "People have found themselves eating at home more than ever before … the demand for fresh produce, quality ingredients and delicious prepared foods has never been higher."
Sandy's found the best way to adapt and evolve was to add to the staff, she said.
Goddiess, who cut this teeth decades ago at the Water's Edge in Westbrook, and apprenticed at Old Lyme's famed Bee & Thistle Inn, is sensitive to the plight of his colleagues in the food industry.
At the beginning of the pandemic, he said, he and EmmaLee "had a lot of sleepless nights."
"But then this exploded," he said. "We're having our busiest year ever, without a question, yet a lot of our friends and restaurant owners are taking it on the chin."
"It's hard to keep up," he added, noting that Sandy's is in the hiring mode.
"We're all a little crispy," said Goddiess, stressing his relief to have Miguel and Collins helping Perrin in the kitchen.
The three chefs, whose paths have crisscrossed for the for the past 40 years, are all graduates of The Culinary Institute of America and "will bring years of experience in culinary excellence to Sandy's," said Woodward.
Perrin, Miguel and Collins have worked together many times over the years, volunteering at various charity events, like the Westerly Land Trust Dinner fundraiser, and at the Culinary Institute of America's annual scholarship dinner. They've always jumped in to help the other when needed, inside and outside of the workplace, and have maintained their friendship with weekly card games, among other activities.
"I never thought I'd get to work with Dave again," said a delighted Collins, who was the head Chef at Shelter Harbor Inn for 11 years (where he worked with Perrin), served as head chef at Go Fish in Mystic for 18 years and more recently ran the kitchens at the Sea Goose and Jealous Monk.
"It gives me tremendous pleasure as a chef," he said, to be working with his friends, to have access to such high quality ingredients and to be turning out such volume.
"It's unbelievable, the amount of food," he said, "the quality and the amount."
"It's a dream job," said Miguel, a Westerly native who retired recently as head of the culinary arts department at Ella T. Grasso Technical High School in Groton, "it's a great fit."
"I get to make what I want using the best, fresh, quality ingredients," said Miguel. "It's a flexible, fun, and it's a great schedule. I just go in and cook … the sky's the limit."
Miguel, a certified executive chef and certified culinary educator, said Sandy's is also a "just a great place to work."
"Whatever I do, every day ends with a 'thank you,'" he said. "And the core staff at Sandy's is terrific."
"Everything seems to have come full circle," Miguel said.
"We're almost a full house," joked Perrin.